Water Slide Rentals Naples
Beat the heat and have fun in the sun with our wide selection of water slide rentals Naples residents can't get enough of! Safe and enjoyable for all ages, we're confident our high-quality selections will be a hit at your next birthday party, company picnic, school field day, or church festival. Whatever your timeframe, budget, or party theme, we're certain we have the perfect water slides rentals Naples FL for your upcoming event.

It's water slides Naples weather all year long in Florida, which makes our extensive inventory enjoyable in every season. We're happy to offer convenient, on-time delivery in Naples, Florida, and surrounding communities. We do our best to exceed expectations and make sure the party planning experience is stress-free and streamlined. Our fantastic team is here to support all of your event rental needs from navigating our website to choosing the best big water slides Naples FL for your party.

Create lasting memories and keep the kids busy with our unbeatable selection of water slides Naples. Whether you're hosting a neighborhood block party or helping to plan a school club fundraiser, we have entertaining and engaging big inflatable water slides that will make your event an over-the-top success. Book your rental online using our scheduling tool or give us a call at (941) 539-8070 to speak with one of our staff today!
Featured Items Amazing Selections for Water Slides Naples FL

If you're looking for fun, festive, and fabulous selections of water slides Naples FL, look no further than our expansive inventory of exceptional options! Planning a toddler's outdoor birthday party or school fundraising carnival is a breeze with our top-tier options for every theme and occasion.

We pride ourselves on offering accessible and durable selections that everyone from toddlers to teenagers can have fun in! We're a fully insured and licensed business and prioritize customer safety above all else, so you can rest assured when you rent a jumper bounce house water slides tables chairs tents Naples FL from us, you'll be receiving the best of the best in service, selection, and safety.

Along with an expansive collection of water slides, we carry party rentals, Inflatable Rentals Naples FL, and bounce houses to cover all of your event needs. We're positive we have the styles and water slides Naples FL inventory that will elevate your party, entertain your entire guest list, and save you time and energy simultaneously. As a locally-owned full-service event rental company, we'll handle the setup so you can focus on enjoying your party. Book your rental online today!

Have Fun in the Sun with Water Slides in Naples FL

We have no shortage of amazing water slides in Naples FL that work well with a variety of themes and budgets. From tropical water slides complete with splash landings to giant rainbow-colored slip n slides that all ages can enjoy, we're eager for you to see why we're the #1 choice for water slide fun in Naples!

Our popular dual-lane mega slides are ideal for larger events while our classic single-lane dry or wet slides work for birthday parties and smaller celebrations. Our highly sought-after water slide bounce house options offer the best of both worlds by combining the classic bounce house with an inflatable slide. No party is too big or small for our equipment!

Our water slides are great for outdoor fun, but you can also use any of our water slide or dry slide options indoors to stay cool without sacrificing the fun! Book one of our bounce house water slide options with our user-friendly scheduling tool or give us a call at (941) 539-8070 to get the party started!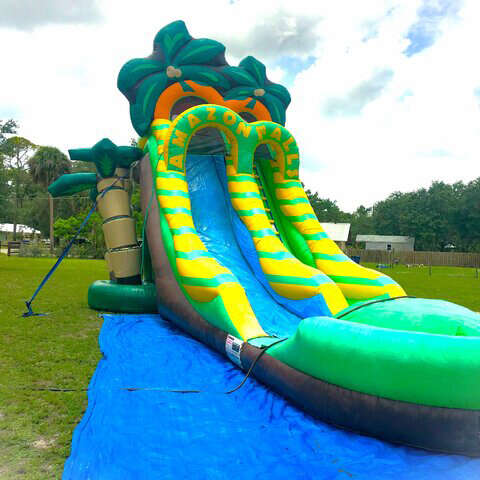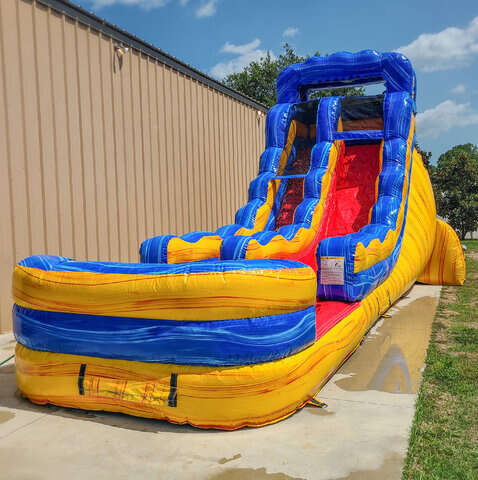 Why Choose Us for Your Inflatable Water Slide Rentals Naples FL

The experienced and friendly team at AB Event Rentals is ready and willing to help you make the most of your party planning experience with our inflatable water slide rentals Naples FL! From browsing our inventory to choosing the best selection for your event to making sure the rental is delivered at a time and location convenient to you, we prioritize customer satisfaction above all else.

Over the years, we've become the go-to providers for event equipment and blow up water slides Naples FL because we understand how important it is to offer affordable selections, versatile options that fit every theme, and dynamic customer service for each step of the rental process. Our customers appreciate that our team treats each event like we're throwing it ourselves. Each birthday party, family reunion, or graduation celebration is just as special to us as the next and we love being part of your unforgettable moments by providing high-quality and entertaining inflatable water slide rentals Naples FL.

We work with industry-leading manufacturers who use fire-resistant and lead-free vinyl materials to design their safe and durable inflatables. All of our slides, bounce houses, and interactives are easy to enter and exit, with velcro mesh closings, inflatable ramps, and breathable windows for airflow. Whatever your event rental needs are, we're here to help. Make your reservation through our website using our convenient scheduling tool or give our crew a call at (941) 539-8070 to discuss your options. Let's get the party started with our 5-star reviewed water slides for rent near me!
Delivering Inflatable Water Slides for Rent in Naples FL

The best part of our job is spreading joy and helping to create lasting memories by providing top-quality inflatable water slides for rent in Naples FL! We regularly partner with churches, school districts, local businesses, nonprofit organizations, community groups, and daycare facilities to support their party planning needs and deliver affordable, reliable, and fun water slides for rent near Naples FL.

Many of our customers enjoy setting their events up outside at popular spots like Baker Park, Cambier Park, or Freedom Park. If you're interested in hosting at a park, our team is available to help walk you through all of the necessary equipment and essentials you may need to make sure your outdoor party is a success. We're happy to deliver our inflatable water slides for rent in Naples FL to the following zip codes in Collier County: 34101, 34102, 34103, 34104, 34105, and 34112.

Our service area also includes Water Slide Rentals Fort Myers FL and Cape Coral. If you don't see your zip code or city listed, feel free to get in touch with us by giving us a call at (941) 539-8070 to go over your options and get you on the books to rent water slides!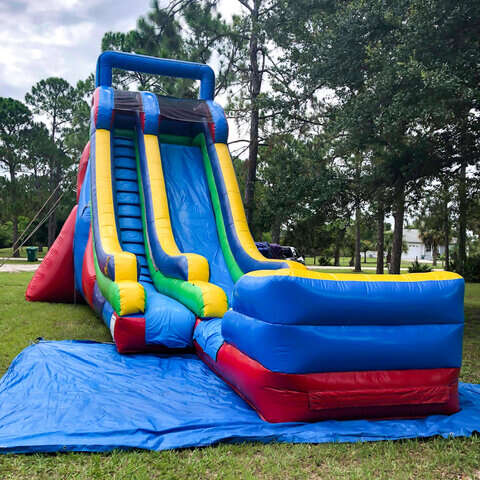 How to Book Naples Water Slides

When you're ready to take your party to the next level, booking one of our Naples water slides is super simple and stress-free! We're confident we have the perfect inflatable slide option that your entire guest list will enjoy. Read through the steps for scheduling your rental below and get on our books today!

From the "Home" page of our website, click the blue "Inflatables" drop-down button in the menu and click on "Water Slides" to view our extensive selection of water slide products. To view details like pricing, rental period, dimensions, additional photos, and descriptions, click the photo of an individual product. Once you've found the perfect Naples water slide for your event, click the light blue "Add to Cart" button to begin the checkout process.

Select the date and time of your event, input your contact and delivery information, then check out using our secure system and any major credit card or a PayPal account. We require a $50 deposit or 25% deposit for mechanical rides. Once your deposit payment is received, you'll receive a confirmation email and a digital copy of the contract. Our team will then be in touch leading up to the date of your event to confirm a delivery window for your water slides rental that works best for you.

If you have any questions about our Naples water slides or would prefer to schedule your rental over the phone with one of our team members, give us a call at (941) 539-8070 to get started today!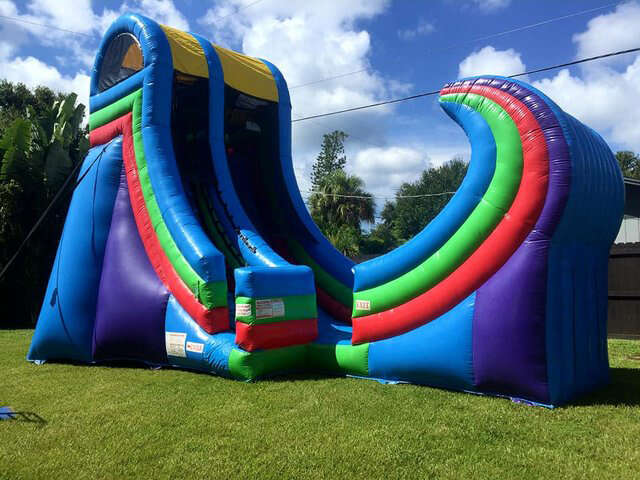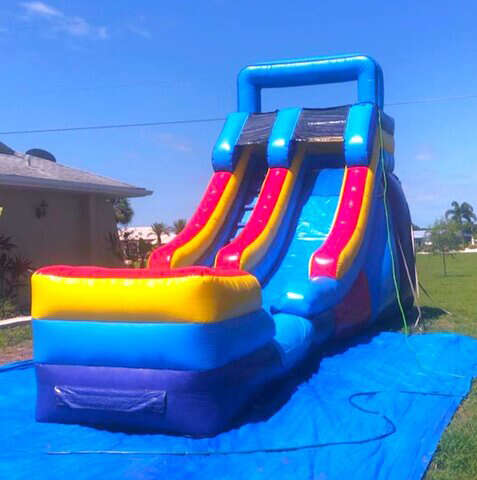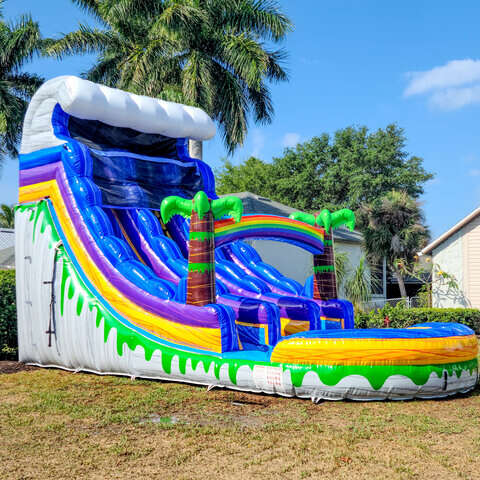 Water Slides for Rent in Naples FL FAQs

You have questions about our water slides for rent in Naples FL and we have answers! Learn more about our services, selections, and systems by reading through our frequently asked questions below, and get in touch with us if you need any further details before scheduling your event rental with our team of party professionals.

1. Can slides be used indoors?
Absolutely! As long as you aren't connecting the slide to water, they make wonderful indoor inflatable options. We regularly work with school districts, churches, small businesses, and local community organizations to provide indoor dry slides for their small or large events. While we do carry dry slide and combo bounce house options, any of our water slides are also able to be assembled indoors if not connected to their water hose.

2. How much do water slides cost to rent?
Our price points change based on the size of the slide, functionality (single or dual-lane, combo bounce house, dry or wet, etc.), and rental period. Our smaller slides begin at $225 for an 8-hour rental period while our big water slides Naples FLrental go up to $550, including an 8-hour rental time. We understand many people are searching for cheap water slides Naples FL, but along with cost-effective rates, we prioritize punctual delivery, friendly service, and open communication throughout the entire booking process.

3. How do I book a water slide for my event?
When you're ready to take the next step and rent a water slide Naples FL, our process is simple and straightforward. Browse our expansive selection of options online, choose the best water slide for your party, click the "Add to Cart" button, input important contact and payment information, then check out! Each of our product pages showcases dimensions, pricing, photos, and other pertinent details, so you have all of the information you need to help make the best decision for your specific event.

Once you've submitted payment, you'll receive a digital receipt including a copy of our contract, then our team will be in touch to confirm a delivery window that's convenient for you on the day of your event. We do require a home deposit of $50 and a 25% deposit for interactives and mechanical bull rentals. If you have any questions about booking or would rather work with one of our team members to get on our schedule, give us a call at (941) 539-8070 to get started today!

4. Does the rental time include setup?
No. We will always arrive prior to the start of your event to assemble the rentable water slides. Please allow a two-hour window of time prior to and after your event for our team to get things set up and taken down. We'll contact you a few days leading up to your party to confirm what time will work best for you. Typically, this means you have more time to enjoy your water slide without any additional cost!

If you have any more questions about our water slides for rent in Naples FL, browse our website or give us a call at (941) 539-8070 to learn more about our amazing options!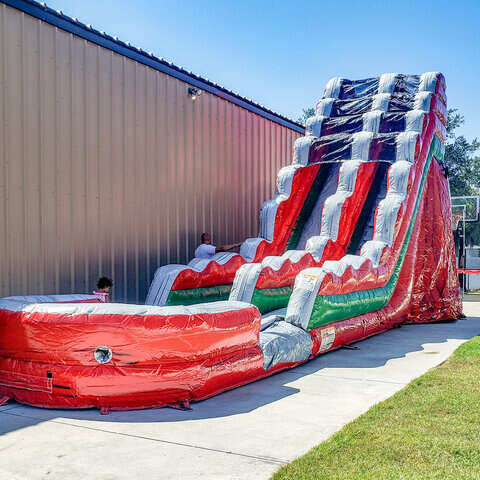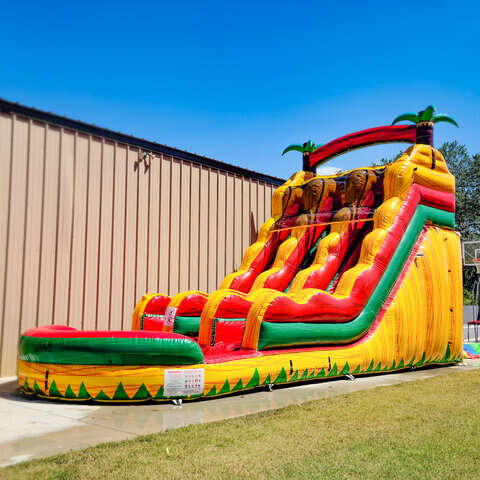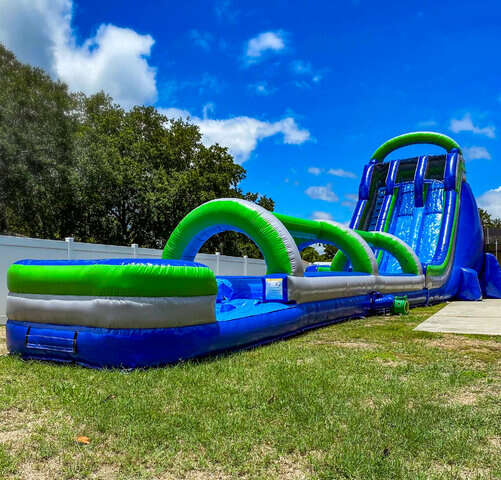 Positive Reviews for our Water Slides for Rent Naples FL

We're thrilled to earn repeated support from our amazing customers by offering high-quality and reasonably priced water slides for rent Naples FL! Whatever the occasion, we have the perfect party equipment and water slides to rent that work well for all ages, themes, budgets, and timeframes.

Our pleasant and accommodating team is here to help guide you through the process from start to finish from choosing the best selection for your event to confirming your delivery window. Beat the heat and have fun in the sun with our wide range of water slides for rent Naples FL! Take a look at some of our 5-star reviews below and schedule your rental online today:

"Fantastically managed company! We were in Naples visiting family and set up a backyard rental with one wet slide and one obstacle course. The products were super clean and the entire rental process was explained to us from start to finish. Highly recommend this company for your party needs because it's clear - they are service professionals!" -M. Blum

"If you're looking for an honest, reliable company, look no further!! Robert saved the day for my son's 4th birthday party. Our previous vendor cancelled last minute. Although Robert was completely booked up for that specific day, he could hear the panic in my voice and was empathetic towards me. He went ABOVE and BEYOND to help me out. He truly cares about his customers which is something rarely seen these days. I live in Naples but I will never book a bounce house from anyone else. I will HAPPILY pay the delivery fee because I know this is an honest family business and I also know they will show up with clean, fun and safe bounce house for my child. My son was on cloud 9 all day with the biggest smile on his face bouncing his little heart out with his cousins and friends! THANK YOU ROBERT AND AB EVENT RENTALS!!!" -D. Dorfman

"Wonderful owners! Robert and Brittney have such great personalities and are a joy to work with. The bounce houses and water slides are top notch. High recommend for parties!!" -T. Apostolou

What Customers are Saying
"Great Customer service and options for bounce houses! I have used AB Event Rentals every year for my kids birthday parties! The easiest, most fun option for keeping my house clean during a party! If you can't relate to that I can't help you! Thanks for everything AB Event Rentals"
- Sam B
"Rented a bouncy house an water slide combo. I got it for the forth of July. Gave me a great price for two day's.Had a little miss understanding on the pick up day. But the owner took care of it. I would rent from them an I recommend that you all rent from Robert."
- Judy M
"We rented a bounce house and a water slide from AB Event Rentals for our daughter's birthday party and it was an absolute hit! These guys provide great service and are easy to work with. Highly recommend!"
- Molly S