Inflatable Rentals Cape Coral
For all of your fun and festive upcoming celebrations, choose AB Event Rentals as your trusted provider of inflatable rentals Cape Coral residents love! From interactive games that keep kids busy for hours to exhilarating obstacle courses that create a little friendly competition, we carry every solution to your party rental needs.

Over the years, we've become the all-inclusive, one-stop shop for inflatables Cape Coral and all other party equipment rentals. Whether you're helping plan a school fundraiser or a church carnival, we're confident our knowledgeable team will take the stress out of party planning with our cost-effective, entertaining, and convenient selections.

We're happy to bring the party to Cape Coral, Florida, and surrounding areas, providing on-time delivery, versatile selections, and fun for the whole family. Book your inflatables Cape Coral online now using our easy scheduling tool or get in touch with our staff for help picking out the best options for your party! Give our team a call at (941) 539-8070 to get on the books today.
Featured Items Versatile Selections to Rent Inflatables Cape Coral FL

Whatever your theme, budget, or timeframe, we're here to help you find the perfect options to rent inflatables Cape Coral FL. Throw a graduation celebration or sweet 16 in style with the added support of our fun and festive inflatables. Along with a wide range of obstacle course and interactive game options, we carry bounce houses and Water Slide Rentals Cape Coral FL that will entertain the entire guest list for hours on end.

As a fully insured and licensed event rental company, we prioritize the safety and satisfaction of our customers when they rent inflatables Cape Coral FL from our experienced and helpful staff. We partner with school districts, churches, sports clubs, community organizations, and residents to help provide unforgettable party experiences at reasonable prices.

Learn more about your obstacle course rental Cape Coral, FL and other event equipment by browsing our website and booking online, or give our team a call at (941) 539-8070 to learn more about our amazing rental selections. For all of your party planning needs, choose the experts at AB Event Rentals!

Affordable and Convenient Inflatable Rental Cape Coral FL

Add endless hours of entertainment to your upcoming event with our affordable selections of inflatable rental Cape Coral FL residents and community members love! Whether you're planning a birthday party for your preteen or helping plan a family reunion, our wide selection of interactive games, obstacle courses, and rentals will be a huge hit.

We carry an impressive inventory of interactive games that are well-suited for carnivals, festivals, and other events, including Bungee Run, Giant Boxing, and Gladiator Joust. If you've been looking for a dunk tank rental Cape Coral FL, you're in luck! Our dunk tank is a classic addition to a wide variety of outdoor events. Book one of our games or accessories online using our convenient scheduling tool.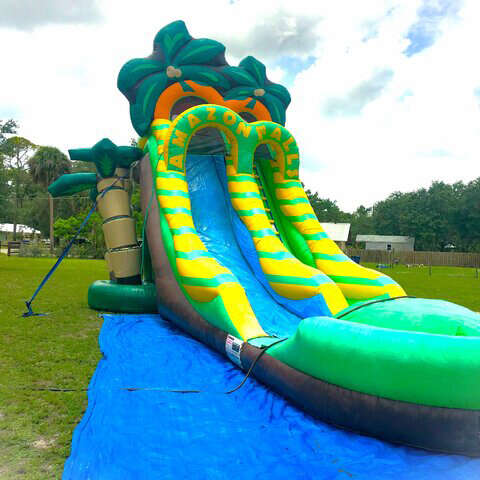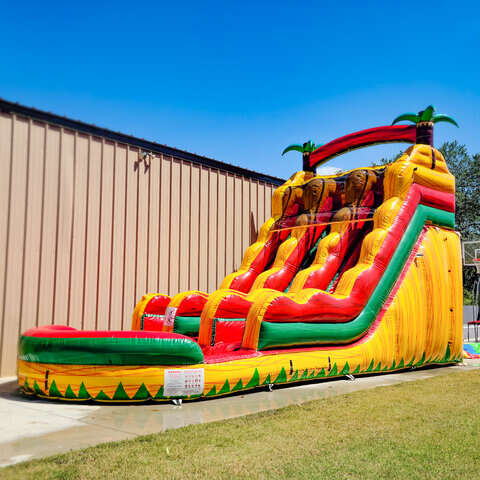 Take Your Event to the Next Level with an Inflatable Obstacle Course Cape Coral FL

Your next school field day will be an unforgettable experience with the help of our inflatable obstacle course Cape Coral FL! With a variety of sizes and styles to choose from, we're positive your next event will be one to remember with our wide range of entertaining party equipment. Take a look at some of our most popular course options below and schedule yours today!

74' Rainbow Obstacle Course: This giant inflatable obstacle course rental for adults Cape Coral FL is great for beating the heat in the Florida weather. Fully covered and equipped with a water slide, this is a great option to help participants cool off while having fun at outdoor events. Beginning at $500 for an 8-hour rental, this is one of our most well-liked courses for festivals, carnivals, and field days.
Cool Runnings: This dry obstacle course is great for all ages. Racers will work their way through tunnels, a climbing wall, pillars, and more to reach the slide and race to the bottom! Beginning at $350 for an 8-hour rental, this is easily one of our most popular kids obstacle course Cape Coral, FL.

80' Jungle Run Obstacle: It doesn't get more exciting than with our biggest Cape Coral FL obstacle course race! The Jungle Run is a dry unit that's great for creating some friendly competition between multiple racers or just letting individuals have fun climbing through tunnels and barriers to the other side! Beginning at $400 for an 8-hour rental, this tropical-themed course is a hit at any indoor or outdoor event.
Add Excitement to the Party with a Mechanical Bull Cape Coral FL

What child doesn't want a mechanical bull Cape Coral FL at their rodeo-themed birthday party?! Suitable for ages five and up with adult supervision, our mechanical bull rents out quickly, so book it today before it's too late!

This rental is entertaining for participants and onlookers alike. Embrace your inner cowboy and see how long you can hold onto the bull before it bucks you off. Schedule the mechanical bull rental through our website or give us a call at (941) 539-8070 to book it with one of our helpful team members.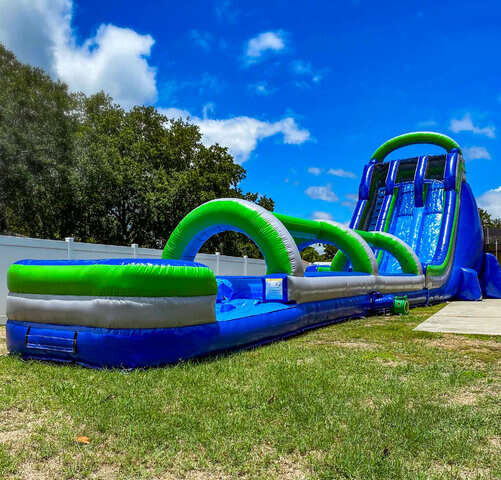 No Festival is Complete Without Rock Wall Climbing Cape Coral FL

Throw a party unlike any other by including rock wall climbing Cape Coral FL! Complete with four stations and its own staff, our rock wall unit is a hit at any small or large event. We regularly rent it out for carnivals, church festivals, school field days, and everything in between!

Add fun and safe physical activity to any event with the inclusion of our rock wall, suitable for all ages. Each participant will be fully harnessed and guided up the wall at their own pace by our helpful and experienced team members. If you've been searching for a way to add rock wall climbing in Cape Coral FL to your event, look no further than our amazing party equipment.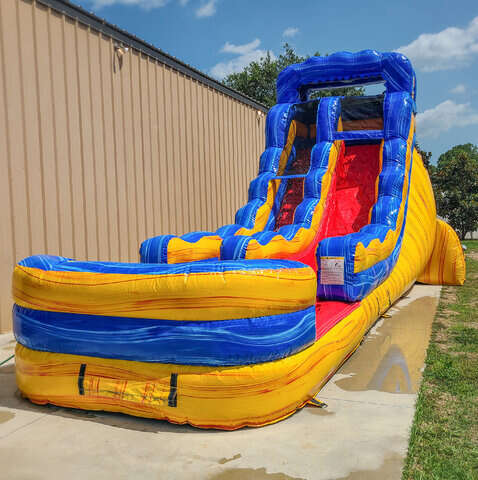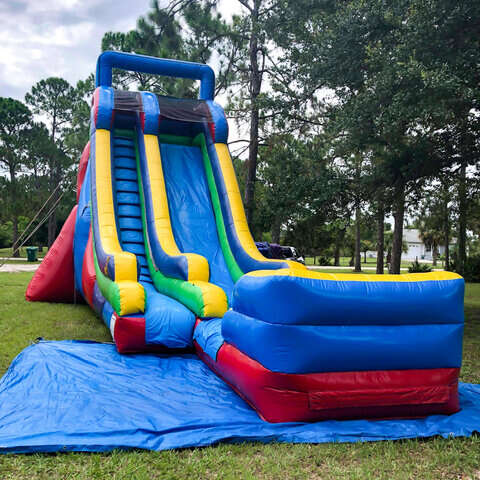 Why Choose Us for Your Inflatable Party Rentals Cape Coral FL

The experienced and friendly team at AB Event Rentals is ready and willing to help you make the most of your party planning experience with our inflatable party rentals Cape Coral FL! From browsing our inventory to choosing the best selection for your event to making sure the rental is delivered at a time and location convenient to you, we prioritize customer satisfaction above all else.

Over the years, we've become the go-to providers for event equipment and interactive inflatable games because we understand how important it is to offer affordable selections, versatile options that fit every theme, and dynamic customer service for each step of the rental process. Our customers appreciate that our team treats each event like we're throwing it ourselves. Each birthday party, family reunion, or graduation celebration is just as special to us as the next and we love being part of your unforgettable moments by providing high-quality and entertaining inflatable party rentals Cape Coral FL.

We work with industry-leading manufacturers who use fire-resistant and lead-free vinyl materials to design their safe and durable inflatables. All of our slides, bounce houses, and interactives are easy to enter and exit, with velcro mesh closings, inflatable ramps, and breathable windows for airflow. Whatever your event rental needs are, we're here to help. Make your reservation through our website using our convenient scheduling tool or give our crew a call at (941) 539-8070 to discuss your options. Let's get the party started with our 5-star reviewed inflatable obstacle courses for rent near me!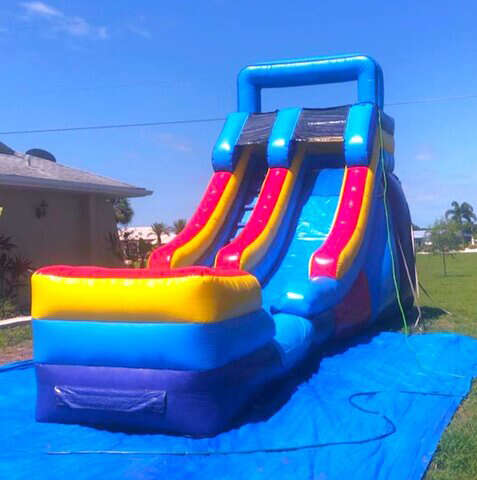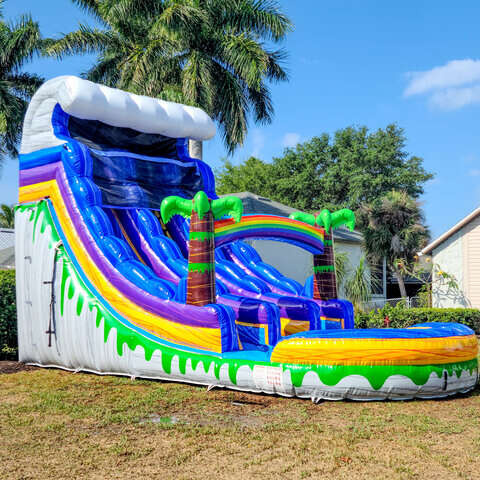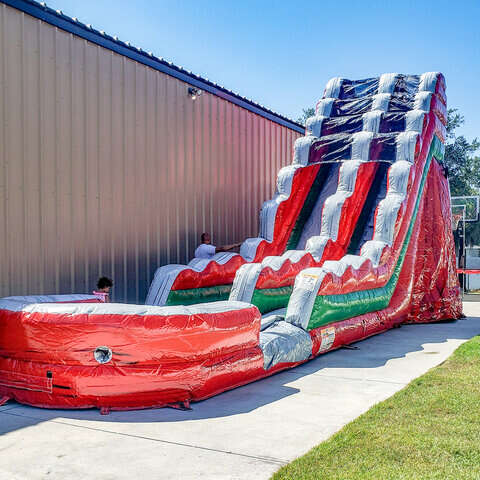 Delivering Fun Inflatable Rental Near Me Cape Coral FL

The best part of our job is spreading joy and helping to create lasting memories by providing top-quality inflatable rental near me Cape Coral FL! We regularly partner with churches, school districts, local businesses, nonprofit organizations, community groups, and daycare facilities to support their party planning needs and deliver affordable, reliable, and fun inflatables for rent Cape Coral, FL.

Many of our customers enjoy setting their events up outside at popular spots like Jaycee Park, Four FreedoFL Park, or Giuffrida Park. If you're interested in hosting at a park, our team is available to help walk you through all of the necessary equipment and essentials you may need to make sure your outdoor party is a success. We're happy to deliver our inflatable rental near me Cape Coral FL to the following zip codes in Lee County: 33903, 33904, 33909, 33914, 33955, 33990, 33991, and 33993.

Our service area also includes Inflatable Rentals Naples FL and Fort Myers. If you don't see your zip code or city listed, feel free to get in touch with us by giving us a call at (941) 539-8070 to go over your options and get you on the books!!


How to Rent Inflatables Cape Coral FL
When you're ready to take your party to the next level, booking one of our inflatables Cape Coral FL is super simple and stress-free! We're confident we have the perfect inflatable slide option that your entire guest list will enjoy. Read through the steps for scheduling your rental below and get on our books today!

From the "Home" page of our website, click the blue "Inflatables" drop-down button in the menu and click on "Water Slides" to view our extensive selection of water slide products. To view details like pricing, rental period, dimensions, additional photos, and descriptions, click the photo of an individual product. Once you've found the perfect Cape Coral FL inflatables for your event, click the light blue "Add to Cart" button to begin the checkout process.

Select the date and time of your event, input your contact and delivery information, then check out using our secure system and any major credit card or a PayPal account. We require a $50 deposit or 25% deposit for mechanical rides. Once your deposit payment is received, you'll receive a confirmation email and a digital copy of the contract. Our team will then be in touch leading up to the date of your event to confirm a delivery window for your inflatables rentals Cape Coral, FL that works best for you.

If you have any questions about our inflatables Cape Coral FL or would prefer to schedule your rental over the phone with one of our team members, give us a call at (941) 539-8070 to get started today!
Inflatable Party Equipment Rentals Cape Coral FL FAQs
If you need more information about our inflatable party equipment rentals Cape Coral FL before booking your outdoor games or dunk tanks, browse our frequently asked questions below and get in touch with us today for any further details. We're your one-stop party shop and are here to help with all of your event rental needs!

1. How big are your obstacle courses? Will they fit indoors?
Our selections of interactive inflatable games and obstacle course Cape Coral FL selections are available in a range of sizes and styles. Our largest obstacle course measures 80' long while our smallest is 32'. As long as the inflatable will clear the entrance to the indoor location and has access to a nearby power outlet, they can be set up inside. We regularly partner with churches, schools, and community groups to help support their indoor or outdoor events. If you're not sure if the inflatable will fit in your indoor location, give us a call at (941) 539-8070.

2. How do I rent one of your outdoor interactive games?
Booking one of our rentals is a simple, easy process. Navigate to our "Interactives" page to view the full list of games, obstacle courses, and miscellaneous party rentals. Once you've found the best option for your specific party, click the light blue "Add to Cart" button and begin the checkout process by entering the event date, delivery, contact, and payment information. You'll receive a copy of the contract via email and our team will be in touch leading up to the event to confirm a delivery window. It's that quick! If you'd prefer to speak with one of our team members to book your inflatable party equipment rentals Cape Coral FL, feel free to give us a call at (941) 539-8070.

3. Do you carry other outdoor activities besides games and rock walls?
Absolutely! For all of your fun and festive party rental needs, we have you covered. Along with our popular obstacle courses, inflatable games, and our popular rock wall, we offer a mechanical bull, dunk tanks, and race car derby. We're certain that no matter what the theme of your event is, we have a wide selection of outdoor or indoor entertainment that the whole family will enjoy.
Positive Reviews for our Inflatables in Cape Coral FL
We're thrilled to earn repeated support from our amazing customers by offering high-quality and reasonably priced inflatables in Cape Coral FL! Whatever the occasion, we have the perfect party equipment and Cape Coral FL inflatables for rent that work well for all ages, themes, budgets, and timeframes.

Our pleasant and accommodating team is here to help guide you through the process from start to finish from choosing the best selection for your event to confirming your delivery window. Beat the heat and have fun in the sun with our wide range of inflatables in Cape Coral FL! Take a look at some of our 5-star reviews below and schedule your rental online today:

"Amazing company that is owned and operated by well respected professionals. They will go above and beyond to make sure you are satisfied with your service. Contact them today for your next party rental!!!" -M. Ruby

"Don't look any further! This company is amazing! Friendly and helpful staff. They are willing to work with your budget and make sure you have a great experience!" -R. Brunelle

"Sarasota Inflatable Repairs can vouch as a vendor for Robert that he is all about safety and security for his inflatable customers! All of the repairs or updates for his inflatables are done the right way, not necessarily the cheapest way." -A. Briscoe
What Customers are Saying
"Great Customer service and options for bounce houses! I have used AB Event Rentals every year for my kids birthday parties! The easiest, most fun option for keeping my house clean during a party! If you can't relate to that I can't help you! Thanks for everything AB Event Rentals"
- Sam B
"Rented a bouncy house an water slide combo. I got it for the forth of July. Gave me a great price for two day's.Had a little miss understanding on the pick up day. But the owner took care of it. I would rent from them an I recommend that you all rent from Robert."
- Judy M
"We rented a bounce house and a water slide from AB Event Rentals for our daughter's birthday party and it was an absolute hit! These guys provide great service and are easy to work with. Highly recommend!"
- Molly S